Parasailing in Cancun is one of the most exciting activities to enjoy during your vacations. The Cancun parasailing adventure is considered a water activity, and enjoy in the beautiful Cancun sea, which means that it is very likely that you'll be ready without noticing.
What to Wear for Cancun Parasailing?
We suggest you wear comfortable clothing, sunglasses and biodegradable sunscreen or sunblock (preferably swimsuit and towel if you want to get wet).
Can I bring my camera?
Yes, you can. We have no restrictions on any cameras or photos or video devices, however, we can not be responsible for damage or falling into the sea.
Do you get wet while parasailing?
You might get slightly wet during the water taxi ride (which takes you from the dock to the main boat), however, once again, no swim is needed.
Anyways, for your safety, a life jacket is offered and mandatory at anytime.
If you are more into adventure, you can ask por staff before the take off for a "splash", you'll touch the sea with your feet while still flying!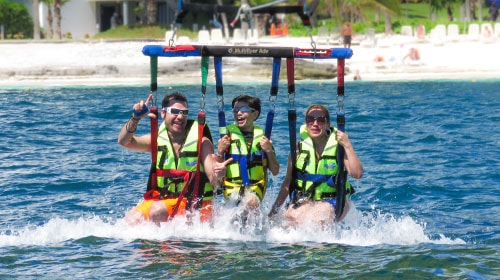 Do you need to know how do you swim to parasail?
The take off and landing of your Cancun Parasailing is on the boat's platform. There's no need to swim, or have any skills, you just need to sit on the comfortbale and safe harness and enjoy.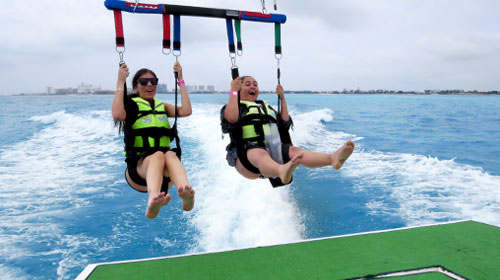 More frequently asked questions:
Cancun Parasailing weight limit
Cancun parasailing prices
Parasail Cancun promo code
Complete list of FAQ's